Divorces
Ending your marriage or domestic partnership?
Dissolving the family unit is the most stressful decision a person can make, if you are contemplating divorce, or have been served with divorce papers by your spouse; we can represent you.
There are 3 main ways to end a marriage or registered domestic partnership in California:
Divorce
Legal separation
Annulment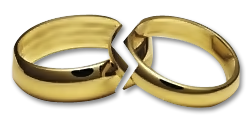 Either spouse or partner can decide to end the marriage. The earliest you can be single is six months after your spouse has been served. You will not be single, however, until a Judgment is signed by a Judge.
A divorce (also called "dissolution of marriage" or "dissolution of domestic partnership") ends your marriage or domestic partnership. After you get divorced, you will be single, and you can marry or become a domestic partner again.