International Driver License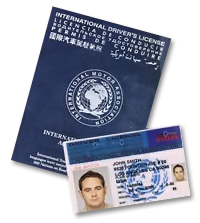 International driver's license is the translation of your native driver's license which states that you have a valid driver's license in your country.
The approval of international driver's license is based on an agreement of road traffic and safety conducted in 1923, 1943, 1949 and 1968 which established standards for International driving permit abroad.
International Driver's License is based according to the agreement signed by the United Nations Convention which was translated into 8 languages: English, Spanish, French, Russian, Arabic, Chinese, German and Japanese.
"This valuable document is valid for 1, 3, 5 or 10 years"
Whether you travel for business, vacation or honeymoon, the International Driving License document is accepted in many countries such as: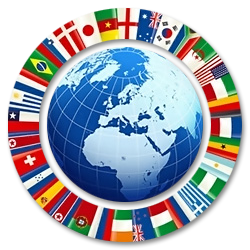 Afghanistan, Albania, Algeria, Angola, Antigua, Argentina, Armenia, Australia, Austria, Bahamas, Bahrain, Bangladesh, Barbados, Belarus, Belgium, Belize, Bolivia, Brazil, Botswana, Brunei, Bulgaria, Byelorussian Republic, Cameroon, Canada, Cayman Islands, Central African Republic, Chile, China, Colombia, Comoros, Congo, Costa Rica, Croatia, Cuba, Curacao, Cyprus, Czechoslovakia, Denmark, Dominican Republic, Ecuador, Egypt, El Salvador, Equatorial Guinea, Estonia, Fiji, Finland, France, French Polynesia, Gabon, Germany, Ghana, Gibraltar, Greece, Grenada, Guatemala, Guinea, Guyana, Haiti, Honduras, Hong Kong, Hungary, Iceland, India, Indonesia, Iran, Ireland, Israel, Italy, Jamaica, Japan, Jersey, Jordan, Kampuchea, Kazakhstan, Kenya, Kuwait, Laos, Latvia, Lebanon, Leone, Lesotho, Liberia, Libya, Liechtenstein, Lithuania, Luxembourg, Macao, Madagascar, Malawi, Malaysia, Mali, Malta, Mexico, Monaco, Moldova, Morocco, Mozambique, Myanmar, Namibia, Nepal, Netherlands, New Caledonia, New Guinea, New Zealand, Nicaragua, Nigeria, Norway, Oman, Pakistan, Panama, Paraguay, Peru, Philippines, Poland, Polynesia, Portugal, Qatar, Republic of Korea, Romania, Rwanda, Russia, San Marino, Saudi Arabia, Senegal, Sierra Leone, Singapore, Slovakia, Slovenia, Spain, South Africa, Sri Lanka, Sudan, Surinam, Swaziland, Sweden, Switzerland, Sudan, Syria, Taiwan, Tajikistan, Tanzania, Thailand, Trinidad & Tobago, Tunisia, Turkey, Uganda, Ukrainian Soviet Socialist Republic, Union of Soviet Socialist Republics, United Arab Republic, United Kingdom, United States of America, Uruguay, Uzbekistan, Vatican City, Venezuela, Vietnam, Yemen, Yugoslavia, Zaire, Zambia, Zimbabwe.